We have a strong commitment to the continued success of our community here in Eugene, and Lane County. Eugene has been the home of our President, John Kiefer, and his family, for more than 20 years, and like him, this is our home too. Kiefer Mazda plays an active role in the community, and through continued charitable efforts, we work to make Eugene an even better place to live for everyone. Below you can read a few of the recent efforts Kiefer Mazda has been privileged to host and be a part of. If you have a suggestion in regards to a charity or volunteering efforts for Kiefer Mazda, please use the form below to contact us.
---
Kiefer Cars for Christmas
---

Kiefer Cars for Christmas was a true community effort, in which Kiefer Mazda and Kiefer Kia partnered with local radio stations to find two individuals or families that had fallen on hard times, and would benefit from a little Christmas spirit. That spirit being a completely free vehicle! Over the month of December, we received hundreds of emails from listeners all across Oregon. After narrowing it down to a handful of nominations, John Kiefer and his team decided on the final two recipients. Early in the morning, the two nominations were called by the radio station. Barely awake, they were told that someone had nominated them for a free vehicle. Neither had any idea that their family had been nominated, so when they were told they would be receiving a vehicle from Kiefer Mazda and Kiefer Kia, completely free, they were taken over with joy and emotion. The entire Kiefer Mazda team anxiously awaited the arrival of their recipient, with roars of cheers and claps erupting as she walked through the front door. A few tears of joy were shed, and after meeting with John Kiefer to congratulate her, she sat in her new car and could only say, "It's perfect." Kiefer Mazda and Kiefer Kia felt so privileged to be a part of this beautiful event, and we would like to thank the hundreds of Oregonians who helped make this possible.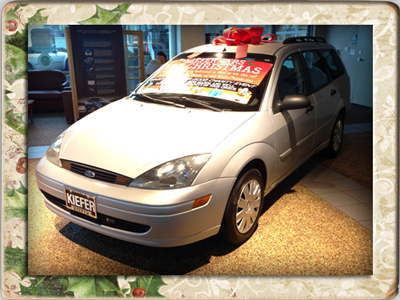 ---
Relay for Life
---
| | | | |
| --- | --- | --- | --- |
| | Kiefer is a proud sponsor of Relay for Life, and this will be our third year partnering with them. Relay for Life Describes their organization as an event in which "... communities across the globe come together to honor cancer survivors, remember loved ones lost, and fight back against a disease that has already taken too much. The funds you raise truly make a difference in the fight against cancer - just ask one of the nearly 14 million cancer survivors who will celebrate another birthday this year!" Kiefer sponsors the ever-entertaining Kid Zone, where parents can take a break while kids play and have fun with the various activities provided. To learn more about Relay for Life, click here. | | |
---
Angel Hair Foundation
---
| | | | |
| --- | --- | --- | --- |
| | The Angel Hair Foundation was created to gives kids in Oregon that have lost hair due to medical illness or treatment an Angel Hair System for free. Kiefer is a proud supporter and sponsor of the Angel Hair Foundation, and several team members recently volunteered at the annual Shall We Dance fundraising event. Providing children with hair systems, so they can feel comfortable in their own skin, has such an enormous impact on a child's self-image and well-being. The Kiefer group was extremely enthusiastic to offer help in any way, and we look forward to working with the foundation for years to come. To learn more about the Angel Hair Foundation, click here. | |   |
---
Kiefer Auto Group is also a proud supporter of the following institutions and charities
.
Click the links below to learn more.
---
---